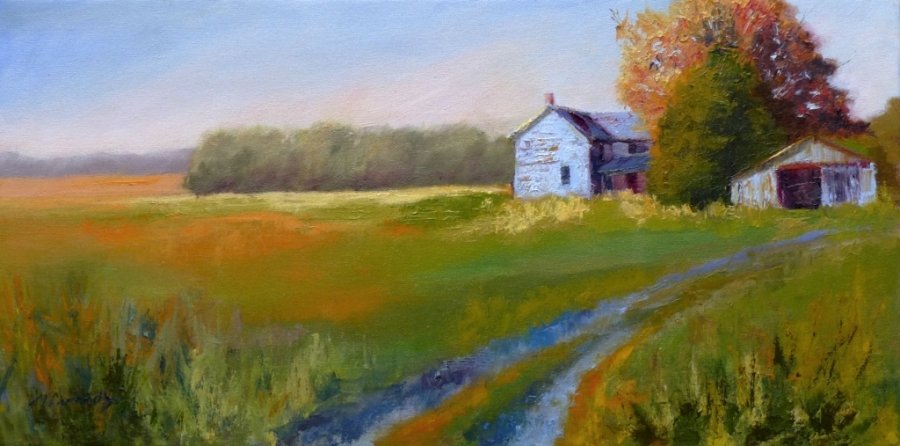 Old Homestead     OIL     12 x 24
Other websites featuring the artwork of Martha O. Carmody:
www.womansartclub.com
www.ohiopleinairsociety.com
Artist Statement:
I paint the quiet of a still and golden evening sky over the land, the sultry glow of green Ohio summers shimmering in lakes and streams, a vibrant bloom shaking in the wind or basking in the late fall sun. Exploring with oils and applying new ideas is an essential part of the energy I put into each painting.  The simple messages in our everyday life offer a rich cache of vibrant subjects for paints, brushes and palette knife. The discipline of drawing and the understanding of composition, value, edges and hue is necessary in developing each painting. With endless choices to be resolved, a plein air canvas gains in air and grows in depth or a studio painting becomes vibrant. Each subject has its own symphony and complexity of colors. The adventure does not end with finding the site or subject which lends its inspiration; I want to capture the atmosphere and the unique experience of the moment. Painting is all about the poetry of light and line, the rhythm of an image unfolding on my canvas.
Primary Gallery:
Martha O. Carmody Studio and Gallery, Evendale, Ohio 45241
A sampling of Galleries below:
  The Barn, Woman's Art Club of Cincinnati, 6980 Cambridge Avenue, Cincinnati, OH 45227
  High Road Gallery, 12 East Stafford Avenue, Worthington, OH 43085-3116
  Wessel Gallery, Cincinnati Art Club, 1021 Parkside Place, Cincinnatui, OH 45202
  Evendale Cultural Arts Center, 10500 Reading Road, Evendale, OH 45241
  Middletown Arts Center, 130 North Verity Parkway, Middletown, OH 45042
  OPAS Exhibiting, Springfield Art Museum, 107 Cliff Park Road, Springfield, OH 45504
Galleries part of local, state and national juried exhibits
Coda Fine Art Gallery, Palm Desert, CA
Riffe Gallery, Columbus, OH
Saks Galleries, Denver, Colorado
Schumacher Gallery, Capital University, Columbus, OH
2014 -2015
*** Ohio Artist 2014 -2015 featured to hang Art in the Govenor's Mansion, Columbus, OH
***Evendale Fine Arts Juried Exhibit 2014 and 2015, Evendale, OH
***Brush& Palette Painters 2014 and 2015 Exhibit, Winter, Cincinnati, OH
*** Signature Member Exhibits, Cincinnati Art Club, Wessel Gallery, Cincinnati, OH
*** Signature Member Exhibits , Woman's Art Club of Cincinnati, Mariemont, OH
***OPAS Prairie Juried Exhibit, 2014, Springfield Art Museum, Springfield, OH
***Southwest Ohio Plein Air Spring Show, Art Alliance, Sinclair College, Mason, OH
***121st Annual Juried Exhibit, Woman's Art Club of Cincinnati, Mariemont, OH
***Bang and Olufsen Gallery Art Exhibit, Cincinnati, OH
***Christ Church Cathedral Art Show, Cincinnati, OH
2012-2013
***Evendale Fine Arts Juried Exhibit 2012 and 2013, Evendale, OH
***Artwork Accepted to Hang in Ohio Governor's Mansion 2013-2015
***Brush& Palette Painters 2012 and 2013 Exhibit, Winter, Cincinnati, OH
*** Signature Member Exhibits, Cincinnati Art Club, Wessel Gallery, Cincinnati, OH
*** Signature Member Exhibits , Woman's Art Club of Cincinnati, Mariemont, OH
***Viewpoint 45, National Juried Art Competition, 2013, Cincinnati, OH
***Viewpoint 44, National Juried Art Competition, 2012, Cincinnati, OH
***OPAS Winter Exhibit, 2012 and 2013, Springfield Art Museum, Springfield, OH
*** "100 Artists of the Midwest: Illinois, Indiana, Michigan, Minnesota, Ohio, and Wisconsin", Art of M.O.Carmody included; by E. Ashley Rooney, Schiffer Publishing ©2012
***119th Annual Juried Exhibit, Woman's Art Club of Cincinnati, Mariemont, OH