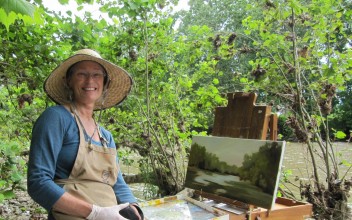 Painting alongside the Little Miami River in Milford, OH
Martha O. Carmody – An artist living and working in southwestern Ohio.
Of this I have always been certain; I was an artist who happened to be teaching mathematics. My childhood was filled with many happy hours absorbing the moody Midwestern atmosphere of rural excursions and neighborhood adventures. Living for two years in Kassel, Germany, I drank in the European art around me in cathedrals, castles, museums, cities and quaint countryside. While a career teacher in Ohio public schools and raising three children, I structured time for evening and summer art classes within the community and at the Cincinnati Art Academy.
The remarkable landscapes of the Midwest compel an ever-present opportunity to paint outside in the brilliant sunshine from April through November with like-minded artists of the region. I constantly seeks out the woodland wildflowers and summer gardens for floral inspiration. The dramatic summer storms and overcast fall days bring to me special palettes for expression on canvases. Wintertime allows time for the painting of portraits, still life and life studies. I continuously endeavor to expand my painting experiences, to include sketch group and lazy summer days painting plein air. I pursue painting in oils for its constant challenges, the intrinsic 'joy of life' it brings to me and the pleasure my work may bring to those around me.
I have been a proactive member of the Evendale Cultural Arts Commission, bringing the fine arts to northern Hamilton County through the development of programs in the Evendale Cultural Arts Center and in the Annual Evendale Fine Arts Exhibit.
I am a Signature Member of the American Impressionist Society, the Cincinnati Art Club, and the Women's Art Club of Cincinnati. My affiliations include the SW Ohio Plein Air Painters, Ohio Plein Air Society, the Indiana Plein Air Painters' Association, and the Brush and Palette Painters.
Cincinnati Art Club
Woman's Art Club of Cincinnati
Ohio Plein Air Society
American Impressionist Society
Brush and Palette Painters